>
More articles by Dave Montizambert
Dave Montizambert looks at RAW

Lighting for Digital Part 10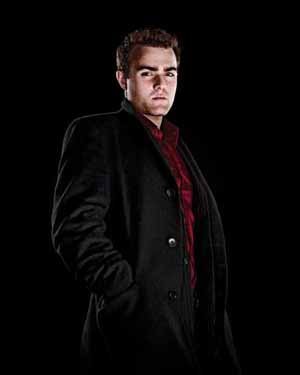 In the last 'Lighting For Digital' installment, after a brief selfindulgent side trip about a bathingsuit shoot in Hawaii, we covered how to set up and shoot a camera sensor sensitivity test, called a 'Shirley', and how to use the images from this test to determine the optimum exposure for your system.

Now it is time to talk about how to determine your own default RAW processing settings. You may be wondering, why do we need default settings? Default settings are needed if we are to create and control lighting with a minimum fuss and frustration and if we want to streamline the task of processing RAW files. Think of it this way: if you wanted to light your subject to have dark brooding shadows that maintain subtle detail as in Image 1, how dark would you allow your shadows to go in terms of shadow fill lighting? How do you know where 'just right' is? You can't answer these questions without the foreknowledge of how you will process the RAW files; you need to know where you are going before you can decide on how to get there. (See sidebar entitled 'Lighting From The Dark-side'.)



Photographic lighting is about creating and controlling lighting contrast for the media in use. With B&W film we had many different ways of processing and printing our images and so, to create great lighting, we needed to know what process we were going to use. With RAW capture as our media this has not changed; we can radically alter the outcome of our lighting during processing with an infinite number of results. Sounds great but is really a headache if you are trying to create great lighting for a living and still have time left over to have a life. Better to work to a known quantity, ie standardized RAW process settings and only deviate from these default settings, if needed, after the fact. For everyday work I have created three different default settings – flat, medium, and high contrast – which are saved as pre-sets. At the beginning of the shoot, before I commence lighting, I choose the pre-set most appropriate for the mood I'm trying to convey with my lighting, and then I light to that pre-set. If I am unsure of what I really want as an end result, and so know that some processing experimentation is to occur, I am more conservative and create my lighting close to my medium-contrast pre-set. This way there is lots of room for experimentation after capture in my RAW processing application and/or in Photoshop, giving the best of all worlds, choice and predictability. The key thing to grasp here is that to do great lighting, you need a stationary target (pre-set) to light to.

Image 3 lists my standard aim-point values for the greyscale swatches on the GretagMacbeth 24 patch checker card. I try to attain these values with the processing sliders and/or tone curve when processing my RAW files in my RAW processing software (set to the Adobe RGB (1998) colour space). These are conservative settings that work pretty well for most situations. I put them here as a starting point for beginners; once you get a handle on RAW processing, you should build your processing pre-sets based on your tastes and needs. If you prefer another working colour space such as ProPhoto RGB these numbers will be different for the same visual result. If you want to use my aim-point values, start by changing your

RAW processing software to Adobe RGB (1998) then set your processing sliders and/or tone curve to my numbers. Once satisfied with your settings, switch your colour space back to ProPhoto RGB or whatever space you want – your processing software will alter the numbers accordingly. For RAW processing tips using Adobe Camera RAW or Adobe Lightroom, see side bar entitled 'Setting the Settings In Adobe Camera RAW & Lightroom'.

If you take my advice and establish a set of RAW process settings that work for you, you will remove a lot of anxiety around creating with light. I hate to leave you with a cliff-hanger but, there is another part of this puzzle that we need to consider, and that is how do your hand-held reflective meter readings relate to actual captured digital values and how do your default RAW processing settings play into this? Unfortunately I'm out of time and perhaps editorial space and so I'll have to leave that to another time.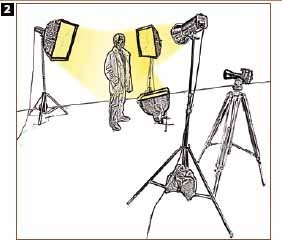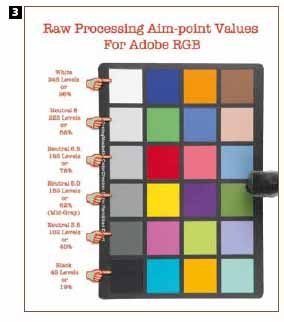 Join today and receive a fantastic free gift: Apply here