Diary of a Fashion Shoot
Mark Cleghorn of – Phototraining4u.com, does a mono job for Professional Imagemaker

The world of fashion on the big stage is a little different from the world of Cardiff! Why? Well in Cardiff we have real clients, with real budgets for their shoots and not some fairy tale amount of money for an exotic shoot in a distant land with a ground covered in coconuts and sand. In this article we will look at a bridal shoot for a top UK wedding dress designer, who just happens to be based in my
hometown.

2 Months before

The day's shoot actually starts months before, with a variety of emails and conversations between me and the client to set the shoot date, based around the availability of me, the designer, the stylist and, of course, the model(s). The stylist, Carl, is my client's normal make-up and hair guy for the bridal gown shoots. We have been working together since the early 1990s so we pretty much know what each of us will bring to the shoot as far as ideas and assistance is concerned. It's good to have worked with people before, as it makes the shoot far more relaxed as you know each other's temperament, as well as styling. This allows me to have a better idea for a shot, knowing the stylist will transform our model from one dress to another.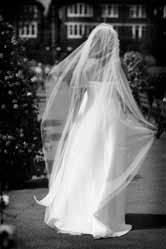 2 Weeks before

Angela, the designer, and I will have any final discussions about the shoot locations; this will be a combination of me suggesting new locations, tried-and-tested ones as well as her ideas of location to match the collection. The style of the shoot is discussed, black and white, colour or a mix, which is easier today, of course, with digital, unlike the film years when once a decision was made to shoot in mono that was it. Some of Angela's classic Blue Collection are still her best-selling designs, so older images may have to sit with images from the new collection, in feel as well as style, so it's important to be aware of the previous images. At this time we will also make a provision for a possible wet-day shoot, as even in our summers we can not guarantee the weather – why do you think so many fashion shoots happen abroad? Not so long ago we had to shoot all of the collection inside due to weather and a shoot like this could only happen if you are prepared for the rain, by at least contacting a suitable alternative location days, if not weeks, ahead of the shoot.


The Day

7.30am Pick up stylist and model from hotel Either me, the client or Debbie, my wife, will go and collect the model and stylist from the hotel and drop them back to the studio for final make-up and hair. Carl the stylist will have usually started on the model in the hotel and this will save some time later on.

8am Stylist and model arrive at studio for finishing

The next two hours are spent in the studio waiting for make-up and hair to be finished and while that is going on, I am usually packing my kit for the day as well as chatting with Angela about the order in which we will shoot the collection. I always like to shoot the main dresses in the collection, third or fourth in the itinerary. By that I mean the dresses that Angela feels are going to be the best sellers are placed in the peak of the shoot and not the beginning or at the end, so we are not rushing them through if we start running out of time. The collection for this shoot was made up of 12 dresses, some of which had simple changes of accessories as well, so it could have been classed as 16+ which is quite a lot for a day's fashion shoot with only one model, as much of the day is taken up with travel between locations and make-up, hair and, of course, dress changes.

9.30am Tell all we are going to leave for Location 1
at 10am
Schedule is important so half an hour before we leave for the first location I remind every one that we leave at 10, this usually puts every one into second gear and allows us to leave with everything packed for the day as planned. I always double check my equipment as I load the car, as I don't want to be the idiot saying I have forgotten something and having to travel back for something essential. The model and stylist will also be going straight to the train station at the end of the day so the need to take all their stuff with them.

10.30 Location 1 – The Park

The first location is a public park, so we have had to obtain clearance from the local authority, shown our public liability insurance, etc, weeks before the shoot. We could try to wing it but what's the point, there is too much at stake and we don't want to get stopped shooting even before we start? Location owners are usually more worried about you causing damage or hurting a member of the public than using the location itself, so a little preparation goes a long way to a successful shoot.

We have four dresses to shoot in the park and lake location, with a time allocation of around 1hr 30mins from arrival to leaving, so time is not on our side – but today the weather is, with bright sunshine and some soft clouds.

Sun can be a best friend or your worst enemy, I just love it, even with a reflective material like a wedding dress, as long as I expose correctly I can record the brightest highlight and the deepest shadow, which will give the subject an almost studio raw and un-softened flash feel, making it very easy to separate the subject from the background by either back lighting, diffusing or simply using a long lens with a wide aperture.

Image – 1 Walking

My favourite Canon lens, which is the 70–200mm f2.8, comes out of the bag on these occasions for almost all of the day. Its ability to throw a background out of focus, even on the brightest of days, allows me to separate the subject from the background, even when the subject is drenched in sunlight. This image is shot at 1/2000 at f4 and demonstrates why it's a perfect lens for full-length fashion – it drops the focus almost instantly to separate the subject.
Page 1 - Page 2 - Page 3 - Page 4

Join today and receive a fantastic free gift: Apply here