>
More articles by Dave Montizambert
Dave Montizambert looks at egg-crate light modifiers

Many times I have been asked about my dramatic, signature lighting style which is both soft and high contrast. One of the key issues is controlling the light spill from the large diffused light sources that are required to create soft light. To look at this in more depth I'm going to use a shot I did from this past August, created for a Canadian company called Lighttools Inc. My assignment was to create a series of images using their soft egg-crate light-bank modifiers (see Image 04) which they manufacture, to create some dramatic lighting on some fine looking humans. This series of photo shoots I did was video taped by Edmonton cinematographer Jim Tustian to be used on the Lighttools' website (www.lighttools.com) as an education piece on the effect of the egg crates and how to use them. Photographers, cinematographers, and videographers use these light modifiers (called grids by some), on soft-boxes and scrims because they give an incredible amount of control over large light sources – they transform these omni-directional sources into directional sources while maintaining most of their soft light characteristics.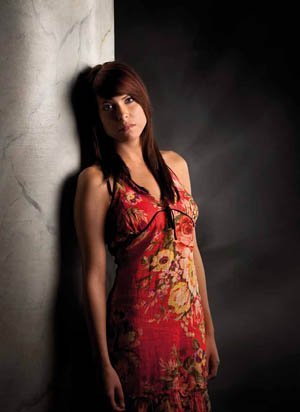 Soft egg crates grew out of the mind of Edmonton, Alberta photographer, Stephen Pilby. Stephen thought that there must be a better solution for light-bank light control than the rigid aluminum honeycomb grids that came on the market in the late 1980s. He began manufacturing a soft version made of a black nylon material that is easily attached to a lightbank using Velcro™. This soft version is much more portable than the honeycomb grid since it folds up to a very small size, and is much less expensive since it costs less to manufacture.


My specialty is dramatic lighting. I know that dramatic lighting can get complicated when the subject requires soft-edged lighting as in the case of the image which I created of model Natasha Hamilton for the Lighttools video of stills shoot, see Image 01. To create a soft light quality on a subject you need to work with relatively large light sources positioned close to the subject, see the 3x4 foot Chimera soft-box in the lighting diagram of Image 02. For lighting people this usually means using soft-boxes or scrims – scrims are also called light panels. The challenge with these sources is that they diffuse the light making it omni-directional – once the light rays emitted from the light origin (strobe tube, halogen bulb, etc.) pass through the white diffusion material of the soft-box or scrim, they spatter out in all directions (180˚) from any given point. Unfortunately this unwanted light-spill hits areas of the set that need to stay dark for the dramatic feel. Adding an egg crate blocks the light particles that spill out to the sides, horizontally as well as vertically, making it possible for a large source of illumination to throw directional light while maintaining most of its soft light characteristics. This blocking of the light causes an added side benefit that I love; the blocking of light by the egg-crate cells is gradual meaning that the pattern of light projected onto a subject fades out at the edges gradually, kind of like a soft vignette. Being able to spot-light your subject with soft light is a very artistic way of using lighting to draw the viewer's eye to key areas of the image.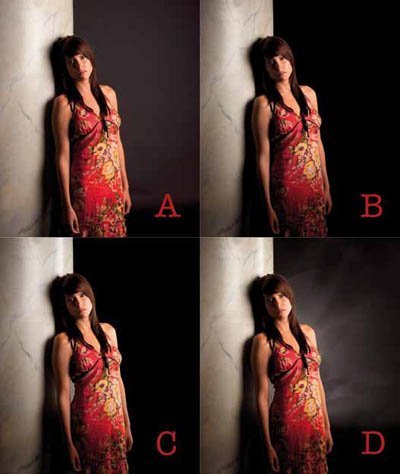 As cool as egg-crate control is, you may be wondering, can't you do this same soft spot lighting effect later with Photoshop? The answer is you can. But when using a soft egg-crate on a light-bank, only the pattern of light on the subject from that one light source is 'vignetted', not the whole image. In other words, creating this effect with lighting allows us to control the light pattern in a three-dimensional space, whereas creating the effect with Photoshop we have to make do with a two-dimensional space – all of the components of the subject and scene are no longer separated by space but are flattened together. That is not to say that it is impossible in Photoshop. However, it tends to be very time consuming since selections or masks are required to isolate the effect of the vignetted light pattern to a select object or objects. When lighting for digital we often run into situations like this where we have a choice to control lighting effects with the lights or in Photoshop, to make the best decision always let common sense be your guide, weigh out quality and speed against time and budget.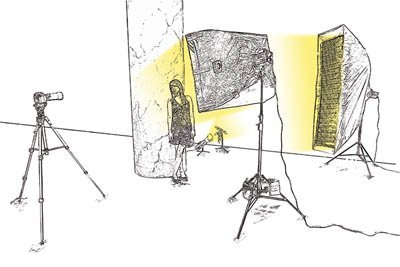 Egg-crate Cell Sizes:

The size of the egg crate squares, called cell size, have different dimensions to create different spreads of light. For instance, Lighttools Egg-crates have five different cell size configurations, 60˚, 50˚, 40˚, 30˚, and 20˚, plus two other hybrids, a 20/60˚ and a 30˚/50˚ for strip-light soft-boxes. As you can imagine, a 60˚ eggcrate gives you a much wider (vertically as well as horizontally) pattern of light than the 20˚which is quite tight. To give you an idea, the cell size of the 60˚ cells are 8.8 cm horizontal by 8.8 cm vertical by 5 cm deep, whereas the 20˚ cells are 1.85 cm horizontal by 1.85 cm vertical by 5 cm deep. The 20˚/60˚ and the 30˚/50˚ are used on strip soft-boxes. The 2x6 foot strip soft-box, used as a separation light on Natasha, had a 20˚/60˚ egg-crate on it. The 20˚/60˚ cell size is 1.85 cm by 8.8 cm by 5 cm deep. So, the smaller the cell size, the more contained and directional is the light. I generally place the light-source at the distance I want for light quality – closer creates a softer wrap-around light quality, while further creates a harder light quality – and then I choose the appropriate egg-crate to puddle the light on the subject just the way I want. This is often done by trial and error, starting with an educated guess as to which egg crate is needed, installing it, and then swapping it out for another size if necessary. Egg-crates are great, you should, however, know that they do eat up some light (¼ to 3 stops depending on cell size and subject distance from light) and egg-crates can make your large light source appear slightly smaller to the subject making the light quality slightly harder than without. Also egg-crates are not cheap, they are very labour intensive to manufacture because they are made by hand taking between two hours and a day, depending on the size of the cells and the size of the soft-box it is intended for.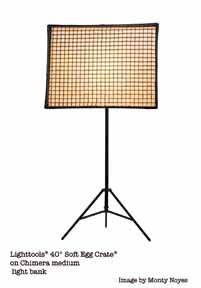 Lighting Breakdown:

In Image 03 A, Natasha is lit by a 3x4 foot medium Chimera softbox oriented horizontally to diminish specular contrast (lower glare) on faux marble pillar. When lighting any cylinder with a rectangular light-source, placing the light horizontally spreads the specular highlight out more, diminishing its brightness, whereas orienting the light-source vertically makes for a smaller, brighter specular highlight. I wanted to keep this sheen on the pillar way below 255 level of brightness so that there would be enough detail left that, if I so desired, could later drop the specular brightness further with the Burn tool in Photoshop or the Adjustment Brush in Adobe Camera Raw or Lightroom. This 3x4 foot mainlight source was positioned up high to concentrate its light onto Natasha's head and shoulders. The power of this light was set to correctly expose Natasha at f4.

In Image 03 B, I added a 40˚ Lighttools Soft Egg Crate to create a gradual fall-off of light from Natasha's chest to knees and to keep main-light spill off the dark grey seamless paper backdrop. The rheostat power control on this light was increased by one stop to compensate for the one stop of light absorbed by the egg-crate. In Image 03 C, a 2x6 foot strip light soft-box fitted with a 60˚ eggcrate was placed behind and to the camera-right side of Natasha to provide a little separation lighting on her side, it also created some extra highlights on her hair. An incident meter reading of this light striking Natasha read two stops below the f4 camera aperture setting.

In Image 03 D, a light without any diffusion, only its reflector is placed on the floor behind and to the camera-left side of Natasha and pointed up at the dark grey seamless paper background. To create the illusion of depth in the background, a tree branch full of leaves is placed in front of this background light to create interesting shadow forms on the dark gray seamless. The brightest point of this lighting reads ½ stop darker than middle gray and gradates down to five stops darker in the dark areas when read with a 1˚ reflective spot meter.

Dave Montizambert

Dave Montizambert lectures internationally on lighting, digital photography and Adobe Photoshop. He is also a published author having written two books on lighting and digital photography (publisher Amherst Media) plus numerous magazine articles on these topics in North America and in Europe. Dave also creates Photoshop tutorial CDs & DVDs for www.software-cinema.com. Dave is available for lectures and workshops in your area and can be reached at montizambert@telus.net or www.montizambert.com

If you would like to learn more about digital lighting, check out Dave's book, Creative Lighting Techniques, available through Amherst Media and the SWPP bookstore.
Join today and receive a fantastic free gift: Apply here