Reflections on Nude Photography
Mark Laurie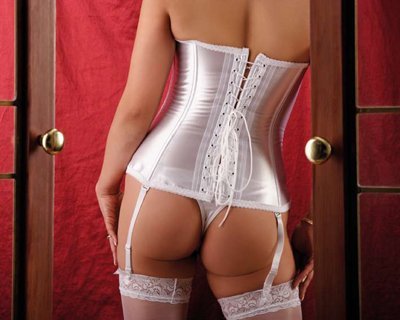 It 's been 28 years this past summer doing pretty much exclusively female nude and lingerie work. Things have changed. When we started back in 1980 we offered strong soft focus, David Hamilton type images. The search for the perfect soft focus filter was ongoing. Calgary was only 400,000 people, highly conservative and in Bible Belt country. There was no glamour or nude photography industry back then and very few, (I think I found two), books on boudoir photography. No courses or seminars.
Yet we decided this was to be our niche. We always projected; initially it was with a machine that projected 4x5 prints onto my white built-in oven. Now it's a projector going onto an 8 foot by 7 foot screen, live in Photoshop.
About two years into it, in desperation for diversity, I experimented with what became our body sculpture line. These are clean sharply focused nudes on simple backgrounds, with poses that exploited the form, not the personality. When our patrons saw it they began to specifically request it. Even so, the norm was still lingerie and softer nude poses.
In the first year I stumbled upon the approach of creating sets and doing session planning. I had two sessions, back to back, by accident – the planned session, with sets, made more income and was more fun. Our settings have grown, but can go up in less than 15 minutes.
There have been some startling changes in 28 years. When we started, pretty much all the sessions were gifts for husbands and boyfriends. Now 50% are commissioned just for the client. Often there is not even a man on the horizon. It's something that is important to the individual client to have them done, usually marking a passage or celebration. They are bolder; very few of our patrons bring lingerie any more and when they do it is a small amount with most of it not being worn. Their poses are bolder and usually show a wider range of personality. Happy and sexy are not the only moods expressed.
Our shooting style has changed with digital. In the medium-format camera days we would shoot only 30 images, sell about 25 of those. Images were crafted; a camera with its big zoom lens lived on a wheeled camera stand. Now it's Canon with three zoom lenses. We shoot usually around 140 images. All hand-held so there is more spontaneity, and wilder camera angles. We used to spend a lot on Polaroids; we found it was very important for the client to see how well the session was going and how good they looked. So now the large-view screen is a huge bonus. We don't show them larger than that only because there are no computer screen connections.
Our sessions last four hours plus; the critical hour of make-up and hair my wife does. The make-up is very subtle, natural and almost identical to the patron's usual style. Sets are still big. We have a special arrangement with Harley Davidson so every few months there is a brand new bike in the studio. Oddly the bike is not as popular as it was a few years ago.
The age range has crept up. A lot of that could be due to our pricing, which has crept up. I just did the maths, our 8x10 prices have gone up 660% from 1980, wow! Oddly we have more interest at these investment levels than we did when they were half of it. We have found as we move up the 'investment' scale we move into a whole new strata of women who would not have looked at us because of our low prices. (Low is a relative term we found, whatever strata we are in, that there are unknown levels above us who consider us low.) Naturally you have to increase the experience and quality as you go up.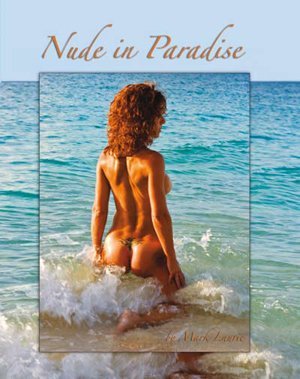 What our patrons are coming to us for has changed as well. Initially it was for sexy photographs. We learned early on that the income depended not so much on prints but in 'the experience'. We still have to deliver a pretty hot final product, but we have to deliver an even better experience. We have found that this type of photographic experience changes women, it's like a catalyst. The bolder they go, the greater the change.
Most of our clients are nervous when they come in – we get the shy conservative type. Her body is not quite what she wants it to be, my job is to fix that, with posing. They hope the environment will be comfortable and I can guide them easily enough so that they will be able to do nudes.
If we do a session that is mixed, some glamour, some nudes, some semi-nudes, some lingerie, when they come back to view, the first to get cut is the glamour, then lingerie.
Another interesting change has been the type of images that go on the wall. One third of income comes from wall-sized images; 30x40 and 40x50 inches is the most common. The sculpted nudes usually wind up in living rooms and great rooms. Any image that does need to be in a bedroom, such as a bedroom image, usually winds up in a main room. This is usually to the surprise of the client who often comments she cannot believe she is planning to put the image in such a public place. But because it is created as art, it fits. Size seems to make the statement. Smaller prints wind up in bedrooms, dens, and private bathrooms. Large images are usually placed in more visible places.
Who patrons show the images to has changed. Back in the early days, few would show the nudes to anyone but close friends or just husbands. Now we get feed back, that no matter how conservative the patron was, within six months there are very few people in her social circle who has not seen her images, even the racy ones.
Which explains our high rate of model releases. About 70% or more of all our patrons give us model releases over all their images and are thrilled to do so.
Age ranges is interesting. The oldest was in her 90s, but that is rare; 60s and 70s not so rare. The norm is the 30 and 40 year old. There are huge budgets involved as well. We have patrons who in one year and several sessions have spent $64,000 on prints. A surprising number have spent between $25,000 and $35,000.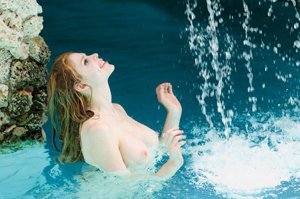 We have learned that delivering an exceptional experience will bring patrons back several times over the year, each time investing nearly as much as the initial time, often times more.
The personality of our patrons is interesting, most are leftbrain folks. The creative process fascinates them, especially when they are in it. Our largest group comes from some aspect of the medical field, followed by the accounting field. Who would have suspected?
We don't do a lot of exotic Photoshop work to a client's image, especially approaches that alter their shapes, unless we are creating art for them. Beyond blemish retouching, scar removal, we leave them pretty much as the camera found them. Of course with lens and lighting techniques, a lot can be done.
Pretty much all of our patrons are clear they don't want to be turned into someone else.
Join today and receive a fantastic free gift: Apply here